Hours of Operation
7:00 am to 9:00 pm
Monday through Friday

Executive Committee

Sheryl Guss, Executive Director
Joseph Antico, President
Jay Perantoni, Vice President
Isabelle Wissocki, Treasurer

Board of Trustees

Christine Clemens
Jason Dameo
Jason Kraska
John McLachlan
John Morris
Rich Reitman
James Rick, Jr.
Building Closures: PeopleCare Center follows the Bridgewater Raritan Regional Schools schedule. Please check their website for weather-related closings: www.brrsd.k12.nj.us
Tuesday, December 11 2018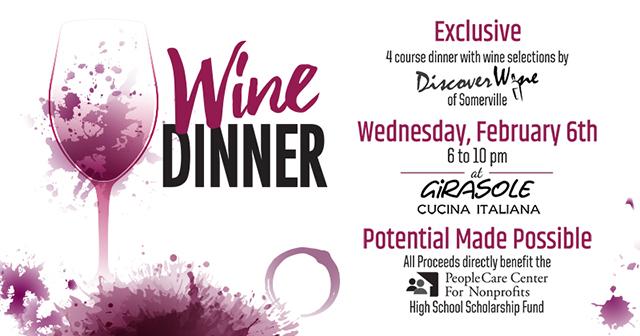 Tickets are on sale now! Join us Wednesday Feb 6th for a 4 course dinner at Girasole Restaurant in Bound Brook, NJ with wine selections by Discover Wine of Somerville. All proceeds directly benefit the PeopleCare Center for Nonprofits Class of 2019 High School Scholarship Fund.